Chicken Parm Dinner $13.50
Breaded 6 oz. chicken breast fillet topped with Marinara sauce and melted Mozzarella cheese. Served with a salad and sweet dinner roll.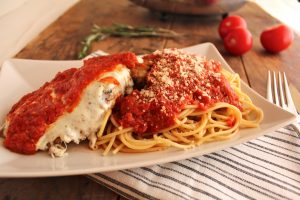 Beef Taco Salad $12.00
A large deep-fried Tortilla shell filled with Lettuce Mix, Sweet Onions, and Tomatoes topped with Taco Seasoned Angus Beef, Mexican blend cheese, fresh House Made Salsa and Sour Cream. Served with a Spicy Ranch dressing on the side.